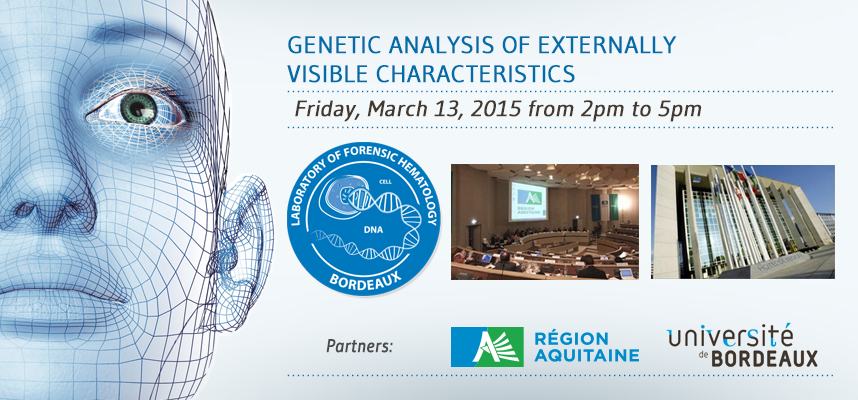 Since 1990, the Forensic Laboratory of Bordeaux, in partnership with the Aquitaine Regional Council and the University of Bordeaux, organizes conferences in order to share the progress of scientific research. The laboratory, a leader in developing new analysis, presents the following topic:
GENETIC ANALYSIS OF EXTERNALLY VISIBLE CHARACTERISTICS
This conference will take place at the Aquitaine Regional Council. In the morning, specific workshops and laboratory visits will be organized.
PROGRAM
9AM-12AM: Workshops and laboratory visit
2 PM : Introduction
Pr Jean-Marc ORGOGOZO
Pr . Jean Marc Orgogozo is University Professor, Hospital Practitioner, MD -PhD CHU Pellegrin – Neurology and Director of the Bordeaux Neurocampus.
Lecturer
Dr. Peter CLAES

Dr Peter Claes is currently appointed as honorary fellow at the Murdoch Children's Research Institute, Australia and as research expert at the KU Leuven, ESAT/PSI/MIC, Belgium.He is also an expert in morphometric research at Leuven University in Belgium. He is a specialist in 3D imaging, and modeled nearly 600 faces with the geneticist Mark Shriver, before establishing over 7,000 points of comparison between each of them. These data and those associated with the voluntary DNA analysis allowed them to identify correlations between genetic characteristic and distinctive feature physics.

Dr. Christopher PHILLIPS

Christopher Phillips has been a full-time researcher in the Forensic Genetics Unit, University of Santiago de Compostela, Spain,. His research has focused primarily on SNP analysis; development of novel forensic markers, including new STRs, SNPs and Indels; forensic ancestry inference; accessing public genome-scale data for forensic purposes; and building open-access online population data resources for the genetics community, exemplified by SPSmart.

Pr. Dr. M. Peter SCHNEIDER

Peter M. Schneider is a full professor at the Institute of Legal Medicine, University of Cologne, Germany, where he is head of the Division of Forensic Molecular Genetics.Since 2012, he is coordinator of the multinational EU-funded 7th framework project "European Forensic Genetics Network of Excellence – EUROFORGEN-NoE" establishing a European research infrastructure in forensic genetics. Furthermore, Professor Schneider is an active member of expert commissions dealing with issues related to genetic typing and forensic DNA analysis, such as the National Gene Diagnostics Commission of the German Federal Ministry of Health, and the European DNA Profiling Group (GEDNAP).He is chairman of the German Forensic Stain Commission organizing the annual proficiency testing GEDNAP President of the German Society for Parentage Testing, as well as former President and current Secretary General of the International Society for Forensic Genetics (ISFG).

Martine BEAUFILS

Martine BEAUFILS has been over the past 20 years a pioneer in genetic analyzes. His commitment to her work has enabled the laboratory to be the first ISO 9001 certified and ISO / IEC 17025 accredited, in the forensic field. Responsible for innovation, she leads the development of new analytical technics: laser capture microdissection, statistical interpretation of mixtures and identification of externally visible characteristics.
17h : Conclusion

Pr. Dr. Christian DOUTREMEPUICH

Prof. Dr. Christian DOUTREMEPUICH is the CEO of Forensic Hematology laboratory of Bordeaux. He has been Professor of Hematology at the University of Bordeaux and Expert of the Supreme Court since 1990. He is an active member of the European center of excellence in the field of forensic genetics – EUROFORGEN -Professor DOUTREMEPUICH has always emphasized values such as excellence, reliability , innovation and fast results. With his quality policy and highly skilled staff, Professor DOUTREMEPUICH offers would renowned expertise in genetic testing to assist criminal investigations.
The conference and workshops in the morning are for Judges and Judicial Officers of Police. Registration is required due to the limited number of sits in the place.
For more information, please contact us directly using the contact form on the website or by calling +33(0)5 57 22 03 03 .