The laboratory of Forensic Hematology, headed by Professor Christian DOUTREMEPUICH, includes several areas:
An area for the reception and management of sealed judicial material
The laboratory offers to deliver sealed judicial material from France's metropolitan area through a specialized carrier. This transport can be arranged at room temperature, refrigerated or frozen. In the case of Corsica and DOM / TOM, transportation can be arranged at room temperature and is subject to weight and size constraints. For more details or in the case of files to be processed urgently, please contact the laboratory directly.
In addition to the transport of sealed court material to the laboratory, dedicated controlled storage areas are available for their conservation.
The analyses area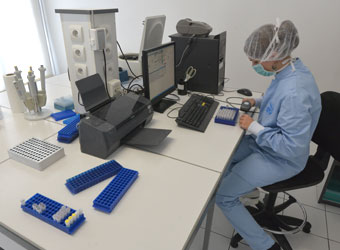 Laboratories in this area are separated from each other and are adapted to:
The search for biological tissue deposited on objects or clothing: Blood – Semen – Epithelial cells – Hair
The extraction of nucleic acids
Genotyping of nuclear DNA
The sequencing of mitochondrial DNA
The laboratories are furnished with latest equipment that is renewed regularly. The identified material is specific to each laboratory and is periodically controlled. A LIMS, developed and managed in-house, ensures traceability of the analyses.
The treatment of the results area
This zone consists of offices dedicated to the validation and drafting of the expert report, which is published both on paper and digital format (CD-ROM). The validation of this report is made according to the quality control system established from the reference standards of ISO 9001 and ISO / IEC 17025.
The dispatch of sealed court material area
This area is different from the reception, and is intended to prepare the return of sealed court files.
The Management Department
It manages innovation, human resources, equipment / consumables and the files before they are dispatched by mail (verification – signature).
To conclude, the laboratory set up this organization to enable the processing of sealed judicial material in real time and provide the applicant fast, reliable and accurate results.